Latest Headlines and Breaking News from Around the World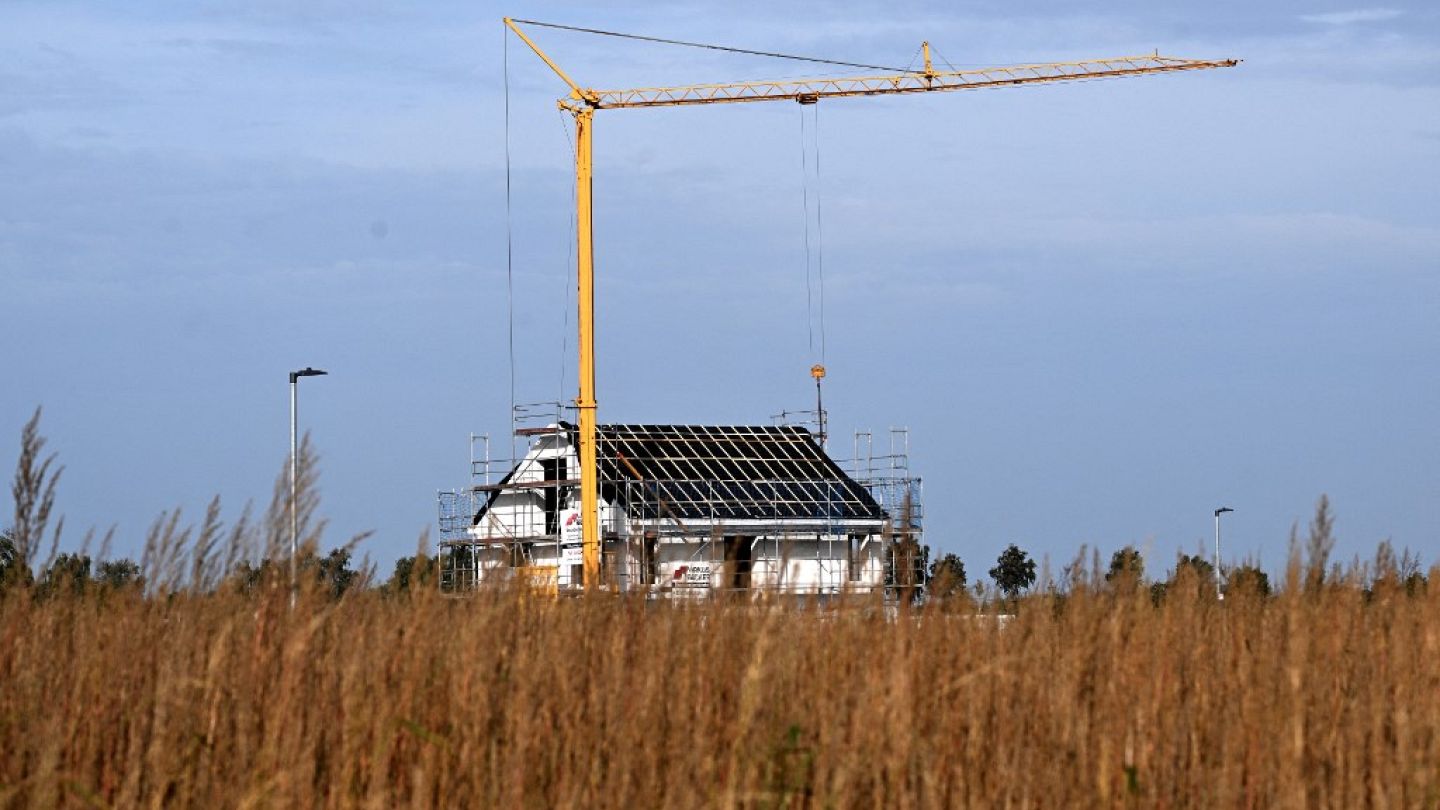 Germany's residential construction sector has taken a hit recently, with new orders being considerably slower and existing orders being cancelled much more frequently.
According to the IFO Institute, about 22% of German companies faced cancelled orders in October, a slight rise of 21.4% in September, while 48.7% of companies also mentioned that there was a lack of new orders in October, climbing up from 46.6% in September. 
Moreover, new orders were down for the twentieth consecutive month in October 2023.
The HCOB Germany construction PMI dropped to more than a 3-year low in October, clocking in at 38.3, down from 39.3 in September. This was mainly propelled by the fastest reduction in German residential projects since 1999.
Since these new figures, German chancellor Olaf Scholz's ambitious target of 400,000 new houses a year looks even more at risk.
Dr. Klaus Wohlrabe, head of surveys at the IFO Center noted: "It's getting worse all the time, with more and more projects failing due to higher interest rates and elevated construction prices."
Raw material costs and skilled worker shortages
The European Construction Industry Federation reported that 81% of companies are also threatened by rising material and energy prices in 2023, in Germany. 
Also, 67% of companies highlighted a lack of skilled workers, whereas 58% also felt that overall demand was low.
The upward trend seen in the German construction sector in 2020 and 2021 came to a shuddering halt in 2022.
Most major central banks such as the US Federal Reserve, the European Central Bank and the Bank of England have been consistently raising interest rates to combat sticky decade-high inflation.
This has hit German housebuilding especially hard, leading to construction mortgage interest rates rising fast in 2022, from 1.4% to 3.5%, especially for contracts of over 10 years.
Construction prices have also been on the rise with raw material prices surging in the aftermath of the Russia-Ukraine war. This was because of a significant shortage in key materials, as the international community continued to pile sanctions on Russia. This included Australia's bauxite export ban to Russia, severely crippling its aluminium sector.
This has mainly impacted industrial metal prices such as aluminium, copper, nickel and steel. Other materials such as wood, concrete, insulating materials and screws have followed suit.
Geopolitics and transportation challenges
Once the initial price shock of the Russian conflict wore off, rising oil prices and rebounding industrial demand due to Covid-19 restrictions lifting, kept raw materials on a slower, but still upward trajectory.
Specific events, such as the 2022 London Metal Exchange nickel short squeeze have also contributed to the chaos. At other times, decisions such as Indonesia's nickel export ban, in order to promote domestic processing has further eroded global supply.
Transportation costs have been another factor weighing on the German economy with a number of builders having to find alternative routes, following increased restrictions, supply chain backlogs and geopolitical tensions.
The German construction sector has also seen lower employment than the overall economy, with an increase of only 0.5% in 2022, whereas broader employment growth was 1.3%. A lack of activity has forced companies to layoff more workers, or hire temporary, seasonal workers.
Tighter regulations on energy efficient buildings
Germany had also initially introduced tighter regulations regarding energy efficient housing, in the form of the new EH 40 standard. This included stimulus measures for the construction of better energy-efficient new housing worth about €1.1 billion.
These measures were originally intended to carry on until 2025 and were mainly targeted towards houses which consumed less than 40% or less of the energy usually needed for similar buildings.
However, the country quickly faced increased backlash from builders, who even went so far as to suspend or postpone new constructions in several locations. Seeing the construction sector being pulled into a deeper slump, Germany quickly withdrew these measures.
The EH 40 standard was also criticised for its overlaps with Germany's recently updated heating laws, which already aim to decrease building heating emissions.
However, climate activists have bemoaned this quick withdrawal, with many pointing out that Germany was already considerably behind its emission-reduction plans. As such, this turnaround may very well make achieving climate goals even more difficult.
Rapidly rising land prices have further choked the housing sector, with land prices for development having risen as much as 160% in major German cities since 2010.
The outlook for the next few months doesn't look much better as companies expect weak demand to continue for the next few months at least. Another risk is that once the backlog of orders balance back up, companies may be left with very little, high cost projects, further eroding profits.
This will also make it harder to invest in more growth and expansion opportunities, with very little disposable capital available.
Importance of Germany's housing sector
Germany's economy depends quite a bit on the housing sector with it accounting for about 7% of the country's gross domestic product. 
As Germany already entered a technical recession earlier this year, the housing sector could continue to dig a deeper hole for the economy.
Rising social housing subsidies may be some small comfort though, with €2 billion being earmarked for social housing in 2022. In 2023, this amount will be further increased to €2.5 billion, with expectations of it reaching €3 billion in 2024.
Germany is also trying to implement new measures to simplify the permit and planning processes, as well as reduce paperwork and bureaucracy. It has also extended more financial support to construction companies being buffeted by higher energy costs.
However, the extent to which these stimulus and support measures work in propping up the economy is still to be seen.
Posted on 15 Nov 2023 12:31 link