Latest Headlines and Breaking News from Around the World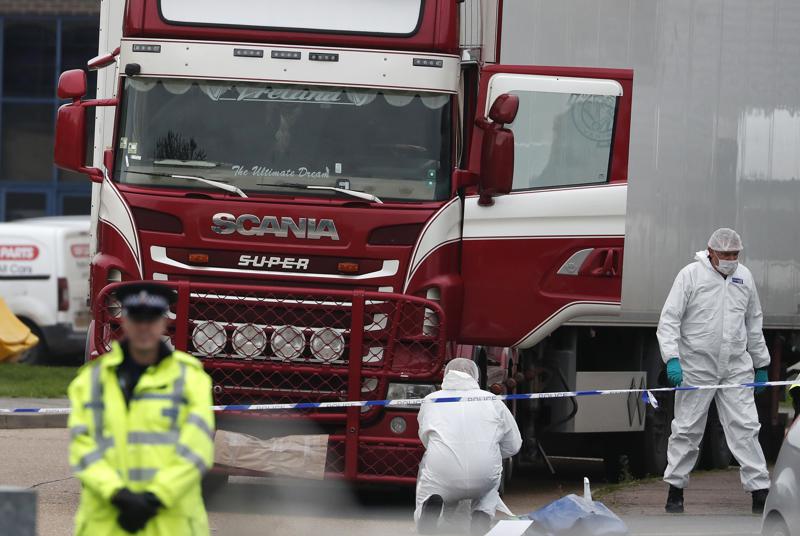 LONDON (AP) — A Romanian man who was part of an international human smuggling ring was sentenced Tuesday to more than 12 years in prison for the deaths of 39 migrants from Vietnam who suffocated in a truck trailer on their way to England in 2019.
Marius Mihai Draghici was the ringleader's right-hand man and an "essential cog" in an operation that made huge profits exploiting people desperate to get to the U.K., Justice Neil Garnham said in the Central Criminal Court, known as the Old Bailey.
Victims, who paid about 13,000 pounds ($16,770) for so-called VIP service, died after trying in vain to punch a hole in the container with a metal pole as the temperature inside exceeded 100 degrees F (38.5 C). Their desperation as they struggled to breathe was captured in messages they tried to send loved ones and and recordings that showed "a growing recognition they were going to die there," Garnham said.
There was no escape and no one could hear their cries, prosecutors said.
Their final hours "must have entailed unimaginable suffering and anguish," prosecutor Bill Emlyn Jones said Tuesday.
A young mother wrote a message to loved ones that was never sent: "Maybe going to die in the container. Cannot breathe any more."
The 28 men, eight women and three children ranged in age from 15 to 44 and about half hailed from Nghe An province in north-central Vietnam. The victims included a bricklayer, a restaurant worker, a manicure technician, an aspiring beautician and a college graduate.
A married couple, Tran Hai Loc and Nguyen Thi Van, were found lying side by side Oct. 23, 2019, in the container that had been shipped by ferry from Zeebrugge, Belgium to Purfleet, England.
Draghici, 50, pleaded guilty last month to 39 counts of manslaughter and conspiracy to assist unlawful immigration.
He's the fifth person to be sentenced in the case in the U.K. Four other gang members were imprisoned in 2021 for terms ranging from 13 to 27 years for manslaughter. The stiffest sentence went to ringleader Gheorghe Nica, 46.
Another 18 people were convicted in Belgium, where the Vietnamese ringleader was sentenced to 15 years in prison. Others got one- to 10-year prison terms.
Draghici was "shocked and horrified with what occurred," defense lawyer Gillian Jones said in court.
But he, like the others involved in the conspiracy, had "immediately abandoned the plan and melted away in the night," after another man opened the truck container and discovered the dead bodies, Emlyn Jones said.
Draghici and Nica both fled to Romania, where Draghici was later arrested.
Family members of the victims who had gone into debt to fund the travel said they were crushed by the loss.
The parents of Nguyen Huy Hung, 15, who was on his way to live with his parents in the U.K. and wanted to be a hairdresser, learned of the tragedy on social media.
"We did not believe it was the truth until we saw his body with our own eyes," his father said. "We felt numb and that feeling lasted for many weeks later."
Posted on 11 Jul 2023 19:53 link