Latest Headlines and Breaking News from Around the World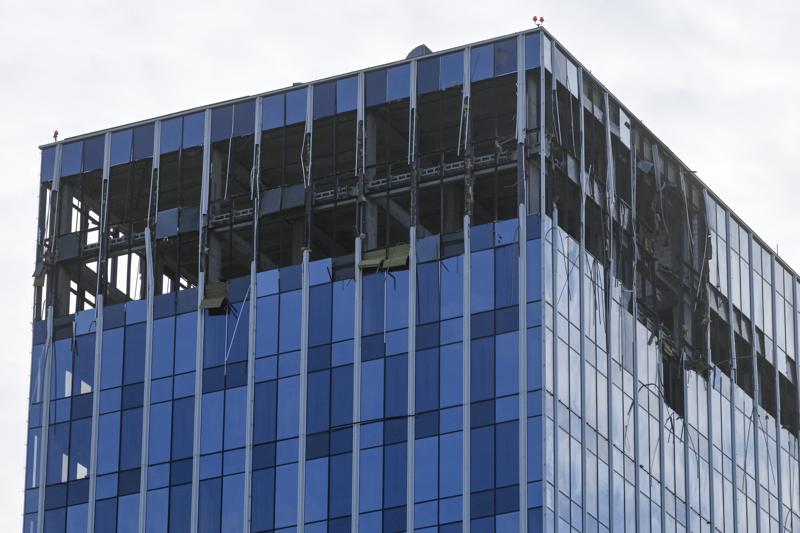 KYIV, Ukraine (AP) — Russian authorities accused Ukraine of launching a drone attack on Moscow early Monday that saw one of the aircraft fall near the Defense Ministry's main headquarters, while the Russian military unleashed new strikes on port infrastructure in southern Ukraine.
Moscow Mayor Sergei Sobyanin said there were no casualties when the drones struck two nonresidential buildings in Moscow. Separately, a Ukrainian drone struck an ammunition depot in Russian-annexed Crimea, forcing a halt in traffic on a major highway, Russian authorities said.
In Moscow, Russian media reported that one of the drones fell on the Komsomolsky highway near the capital's center, shattering shop windows and damaged the roof of a house just about 200 meters (just over 200 yards) away from the towering riverside Defense Ministry building. The ministry's main headquarters has Pantsyr air defense systems placed on the roof.
Hub peek embed (Russia-Ukraine) - Compressed layout (automatic embed)
It wasn't immediately clear whether the drone targeted the Defense Ministry's headquarters, which is located 2.7 kilometers (1.7 miles) away from the Kremlin, or was heading to some other target in central Moscow.
Another drone hit an office building in southern Moscow, gutting several upper floors — more visible damage compared to earlier drone strikes on the Russian capital.
Emergency workers were inspecting the damage and traffic was halted on sections of highways where the drones fell.
Ukrainian authorities didn't immediately claim responsibility for the strike, which was the second drone attack on the Russian capital this month.
In the previous attack on July 4, the Russian military said four of the five drones were downed by air defenses on the outskirts of Moscow and the fifth was jammed by electronic warfare means and forced down. The raid prompted authorities to temporarily restrict flights at Moscow's Vnukovo airport and divert flights to two other Moscow airports.
Kremlin spokesman Dmitry Peskov noted Monday that "the intensity of attempts to attack our regions with drones has grown."
"So measures are being taken, a very intense daily 24-hour work is underway," Peskov said, without offering any details about whether Russia's air defence systems have been enhanced because of the increased attacks.
Russian authorities said that another Ukrainian drone attack early Monday struck an ammunition depot in northern Crimea and forced a halt in traffic on a major highway and a railway crossing the Black Sea peninsula that was illegally annexed by Moscow in 2014. Railway traffic was restored several hours later.
The Moscow-appointed head of Crimea, Sergei Aksyonov, said that authorities also ordered the evacuation of several villages within a five-kilometer (three-mile) radius of the depot that was hit.
Aksyonov said the military shot down or jammed 11 attacking drones, while the Defense Ministry claimed later that 11 of the 17 attacking drones were jammed and crashed into the Black Sea and another three were shot down.
Mykhailo Fedorov, Ukraine's digital transformation minister, noted on his messaging app channel that Monday's drone attacks on Moscow and Crimea signaled that Russia's electronic warfare means and air defenses are "less and less able to protect the skies of the invaders," adding that "there will be more of it."
Ukrainska Pravda reported that the drone attack on Moscow was a special operation by Ukrainian military intelligence.
On Saturday, a previous drone attack on Crimea hit another ammunition depot, sending huge plumes of black smoke skyward and also forcing the evacuation of residents,
Russian forces, meanwhile, struck port infrastructure on the Danube River in southern Ukraine with exploding drones early Monday, wounding seven people and destroying a grain hangar and storage for other cargo, Ukrainian officials said. Ukraine's military reported downing three of the attacking drones.
French international news agency Agence France-Presse said one of its video journalists was wounded by a drone attack Monday while reporting at a Ukrainian artillery position near Bakhmut.
Dylan Collins, a U.S. citizen based in Beirut, Lebanon and working on assignment in Ukraine, sustained multiple shrapnel injuries and was evacuated to a nearby hospital where he was being treated. The agency said Collins, 35, is conscious and speaking to colleagues. Doctors say his condition is not life-threatening, the agency said.
Collins' colleague, AFP video journalist Arman Soldin, was killed by Russian rocket fire near Bakhmut in May.
Romanian President Klaus Iohannis on Monday "strongly condemned" the attack on civilian port infrastructure on Ukraine's side of the Danube river which he said was "very close to Romania." Iohannis said on Twitter that the incident poses "serious risks" to security in the Black Sea region.
The strike was the latest in a barrage of attacks that has damaged critical port infrastructure in southern Ukraine in the past week. The Kremlin has described the strikes as retribution for last week's Ukrainian strike on the crucial Kerch Bridge linking Russia with Crimea.
Since Moscow canceled a landmark grain deal a week ago, Russia has launched repeated attacks on Odesa, a key hub for exporting grain.
Wheat prices rose more than 8.5% on Monday after the attack on the Danube, which is a key thoroughfare for Ukraine's grain exports amid the war. It shows the market's anxiety about Moscow expanding its targeting of Ukrainian grain shipments.
The attack also raises questions about a crucial alternate route after Russia exited the accord that provided protections for grain ships in a bid to ease a global food crisis. Russia and Ukraine are two of the world's major wheat, barley and vegetable oil suppliers.
Other routes by road and rail through Europe will heap on transportation costs and likely lead to lower production by Ukrainian farmers, analysts say.
On Sunday, at least one person was killed and 22 others wounded in an attack on Odesa that severely damaged 25 landmarks across the city, including the Transfiguration Cathedral.
UNESCO strongly condemned the attack on the cathedral and other heritage sites and said it will send a mission in coming days to assess damage. Odesa's historic center was declared a UNESCO World Heritage site earlier this year, and the agency said the Russian attacks contradict Moscow's pledge to take precautions to spare World Heritage sites in Ukraine.
The Russian military denied that it targeted the Transfiguration Cathedral, claiming without offering evidence that it was likely struck by a Ukrainian air defense missile. Peskov on Monday echoed that claim, insisting without any evidence that the accusations against Russia "are an absolute lie."
___
Litvinova reported from Tallinn, Estonia. Associated Press writer Yuras Karmanau contributed to this report from Tallinn, Estonia.
___
Follow AP's coverage of the war in Ukraine: https://apnews.com/hub/russia-ukraine
Posted on 24 Jul 2023 09:44 link